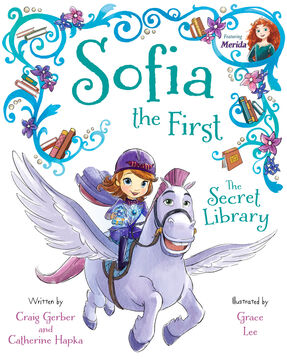 The Secret Library is an illustrated storybook based on the episode of the same name from the Disney Junior animated series Sofia the First. The book was released on September 1st, 2015.
Description
Edit
When Sofia's Aunt Tilly visits Enchancia, she gives Sofia a special book that guides her to a secret library hidden in the castle! The library is filled with hundreds of unfinished books-and Sofia is the only one who can give each story a happy ending. Sofia selects the story of Minimus's brother, Mazzimo, who has been captured by the arrogant and greedy Prince Roderick of Borrea. It's up to Sofia and Minimus to rescue Mazzimo and grant him his one wish: to be free! Princess Merida makes an appearance to aid Sofia.
Ad blocker interference detected!
Wikia is a free-to-use site that makes money from advertising. We have a modified experience for viewers using ad blockers

Wikia is not accessible if you've made further modifications. Remove the custom ad blocker rule(s) and the page will load as expected.