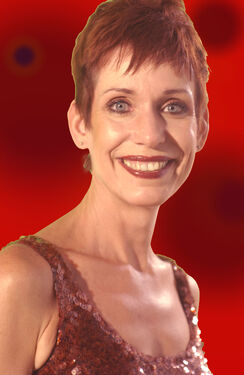 Susanne Ann Blakeslee is an American voice and musical theatre actress, also known as Susan Blakeslee and Suzanne Blakeslee. Among her notable roles are Wanda and Mrs. Turner on The Fairly OddParents and Maleficent in Disney Media and the Kingdom Hearts series. She does the current voices of Maleficent, Lady Tremaine, Cruella De Vil, The Evil Queen, Kala, and Flora (in tandem with Barbara Dirickson). She also narrated Disney Princess Enchanted Tales: Follow Your Dreams.
Ad blocker interference detected!
Wikia is a free-to-use site that makes money from advertising. We have a modified experience for viewers using ad blockers

Wikia is not accessible if you've made further modifications. Remove the custom ad blocker rule(s) and the page will load as expected.