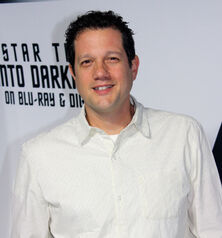 Michael Giacchino is an Italian-American composer best known for his compositions for Pixar feature films including The Incredibles (2004), Ratatouille (2007), Up (2009), Cars 2 (2011), Inside Out (2015) and Zootopia (2016). He has received multiple Grammy awards, an Emmy, Golden Globe Award and Academy Award.
Outside Disney, he is known for composing the musical scores for first Medal of Honor video games.
Compositions for Disney and Pixar Feature Films
Edit
Ad blocker interference detected!
Wikia is a free-to-use site that makes money from advertising. We have a modified experience for viewers using ad blockers

Wikia is not accessible if you've made further modifications. Remove the custom ad blocker rule(s) and the page will load as expected.