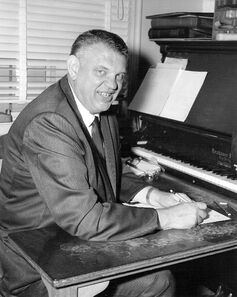 George Bruns (July 3, 1914 - May 23, 1983) was an American film score composer who composed the music for the Davy Crockett series, Mickey Mouse Club, Sleeping Beauty, Goliath II, Babes in Toyland, 101 Dalmatians, The Absent-Minded Professor, Son of Flubber, The Sword in the Stone, The Ugly Dachshund, Follow Me, Boys!, The Fighting Prince of Donegal, The Adventures of Bullwhip Griffin, The Jungle Book, the Pirates of the Caribbean attraction (he also wrote the song "Yo Ho, Yo Ho, A Pirate's Life For Me!"), the Country Bear Jamboree attraction (he also wrote the song "Bear Band Serenade"), The Love Bug, The Aristocats, Robin Hood, Herbie Rides Again, Walt Disney's World of Color and many cartoon shorts.
Music Score for Disney Films
Edit
Ad blocker interference detected!
Wikia is a free-to-use site that makes money from advertising. We have a modified experience for viewers using ad blockers

Wikia is not accessible if you've made further modifications. Remove the custom ad blocker rule(s) and the page will load as expected.