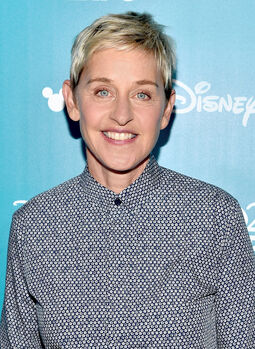 Ellen Lee DeGeneres is an American comedienne, TV personality, talk-show host, actress, writer, and producer who provided the voice of Dory in Disney/Pixar's 2003 animated film, Finding Nemo. At Epcot, she is the celebrity featured in Universe of Energy: Ellen's Energy Adventure. DeGeneres reprised the role of Dory in the new 2016 Disney/Pixar film, Finding Dory. She also played Martha Alston in the 1996 Touchstone Pictures film Mr. Wrong and Ellen Morgan in the ABC TV show Ellen.
Ad blocker interference detected!
Wikia is a free-to-use site that makes money from advertising. We have a modified experience for viewers using ad blockers

Wikia is not accessible if you've made further modifications. Remove the custom ad blocker rule(s) and the page will load as expected.